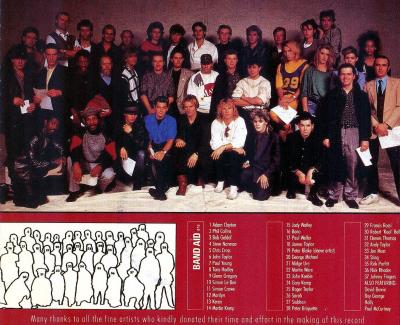 Aportación de michaelmouse1967
Imagen: http://picklemethis.com/wp-content/uploads/2013/12/back.jpg
Band Aid es el nombre de un grupo de intérpretes británicos e irlandeses fundado en 1984 por Bob Geldof y Midge Ure; el reunir a tantos cantantes tuvo como fin grabar un disco y así recaudar fondos para combatir el hambruna en Etiopía.
El disco se titula DO THEY KNOW IT'S CHRISTMAS? (¿Sabrán ellos que es Navidad?), consta de un sólo tema con título homónimo, el cual llegó al primer lugar de las listas en Gran Bretaña en Diciembre de 1984. Es una de las canciones que más rápidamente se han colocado en los primeros lugares de las listas inglesas. El sencillo como tal vendió 1 millón de copias a tan sólo una semana de darse a conocer, estuvo 5 semanas consecutivas en el primer lugar de listas de sencillos y en ese tiempo alcanzó las 3 millones de copias vendidas.

El disco fue producido por Trevor Horn.
Participaron: U2, Phil Collins, Boomtown Rats, Spandau Ballet, Ultravox, Duran Duran, Paul Young, Heaven 17, Marilyn, Bananarama, Shalamar, The Style Council, Kool & The Gang, Wham!, Status Quo, Culture Club, Sting, David Bowie, Frankie Goes to Hollywood, Paul McCartney, Big Country y Peter Blake.
La letra es de Bob Geldof y la música es de Midge Ure (entre paréntesis está el nombre del intérprete y lo que canta respectivamente):
(Paul Young)
It's Christmas time
There's no need to be afraid
At Christmas time
We let in light and we banish shade
(Boy George)
And in our world of plenty
We can spread a smile of joy
Throw your arms around the world
At Christmas time
(George Michael)
But say a prayer
Pray for the other ones
(Simon LeBon)
At Christmas time it's hard
But when you're having fun
(Simon Le Bon, Sting, Tony Hadley)
There's a world outside your window
And it's a world of dread and fear
(Sting, Bono)
Where the only water flowing is
The bitter sting of tears
(Bono, Sting, Simon Le Bon)
And the Christmas bells that are ringing
Are clanging chimes of doom
(Bono)
Well, tonight thank God it's them instead of you.
(Boy George, Paul Weller)
And there won't be snow in Africa this Christmas time.
(Bono, George Michael, Boy George)
The greatest gift they'll get this year is life

(Paul Young)
Where nothing ever grows
(Glenn Gregory)
No rain or rivers flow
(Todos)
Do they know it's Christmas time at all?
(Marilyn, Glenn Gregory, Rick Parfitt, Francis Rossi)
Here's to you
(Paul Young)
raise a glass for everyone
(Marilyn/Glenn Gregory/Rick Parfitt/Francis Rossi)
Here's to them
(Paul Young)
underneath that burning sun
Do they know it's Christmas time at all?
(Todos)
Feed the world
Feed the world
Feed the world
Let them know it's Christmas time again
Feed the world
Let them know it's Christmas time again
Feed the world
Let them know it's Christmas time again.
En la imagen, los intérpretes integrantes de BAND AID en 1984.
Este es un compilado que además d la versión original incluye unos remixes:
1.One year on feed the world (B Side)
2.Do they know it's Christmas? (Album version)
3.Standard mix
4.Feed the world