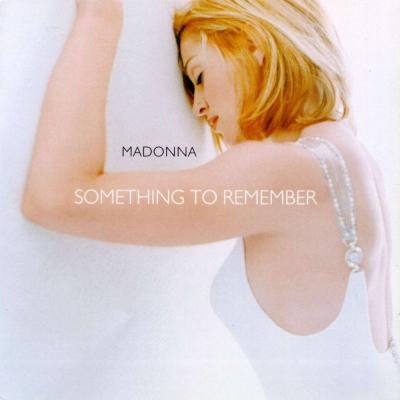 Producción: Madonna, David Foster, Nellee Hooper, Patrick Leonard, Babyface, Nile Rodgers, Jellybean, Shep Pettibone
Maverick/Warner Bros., 1995
Sencillos: You'll see, Oh father, One more chance, Love don't live here anymore
Compilado d baladas d la polémica cantautora, abarcando desde 1984 a 1995; con tres temas nuevos (You'll see, One more chance y I want you, cover d una canción original d 1976. Contiene también This used to be my playground y I'll remember que nunca antes se habían anexado a grabaciones d la intérprete estadounidense.
El disco fue bien recibido por la crítica, tuvo ventas millonarias.
Fuente: https://es.wikipedia.org/wiki/Something_to_Remember
El sencillo debut fue el único que gozó d fama, que posteriormente fue dado a conocer en español por la misma Madonna y se anexó en la segunda edición dl disco para América Latina, la versión al español corrió a cargo dl compositor y cantante argentino Paz Martínez.
1.I want you (con Massive Attack)
2.I'll remember (tema d la película "Con honores")
3.Take a bow
4.You'll see
5.Crazy for you
6.This used to be my playground
7.Live to tell
8.Love don't live here anymore (Remix)
9.Something to remember
10.Forbidden love
11.One more chance
12.Rain
13.Oh father
14.I want you (Orquestal) -Con Massive Attack-