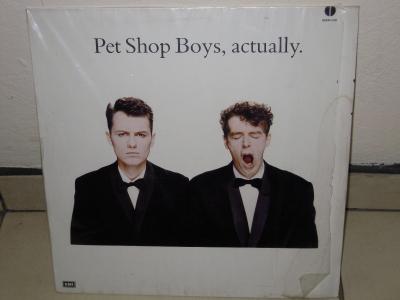 Producción: Pet Shop Boys, Stephen Hague, Julian Mendelesohn, Andy Richards, Shep Pettibone, David Jacob
EMI, 1987
Sencillos: It's a sin, What have I done to deserve this?, Rent, Heart
Segunda producción dl dueto inglés exponente dl dance pop. Es considerado por la crítica como uno d sus mejores trabajos. Es el tercer disco más vendido dl dueto.
Todas las canciones son autoría d los integrantes d Pet Shop Boys (Neil Tennant y Chris Lowe), contando con las colaboraciones dl gran Ennio Morricone en el estupendo tema It couldn't happen here, Bobby Orlando en One more chance y Allee Willis en What have I done to deserve this?
Los sencillos se colocaron dentro d los primeros lugares en listas dl Reino Unido.
Fuente: http://en.wikipedia.org/wiki/Actually
1.One more chance
2.What have I done to deserve this? (Con Dusty Springfield)
3.Shopping
4.Rent
5.Hit music
6.It couldn't happen here
7.It's a sin
8.I want to wake up
9.Heart
10.King's cross